There is a recurring problem businesses do have. How to minimise Internet data cost.
Its easy to manage your Internet data when the sole user is you. However the higher the number of users, the more the headache.
For some, the oral method of warning staffs not to visit data consuming website and steer clear of Torrent site works but not effectively.
In this article I will outline the major drains on your data and steps you could adopt to minimise data usage and control unnecessary wastage.
Windows and Software Update
You see, even if your staffs are pious and extremely cautious, Windows will always be a bottleneck. Not if your PCs are on one of the latest version of Windows, for example Windows 10 operating system has what Microsoft called Update Delivery Optimisation
While this feature has the advantage of securing the latest Windows Update for you faster by downloading from PCs near you, the flip side is you also give, and that's Bandwidth cost too. Microsoft introduced this feature to reduce Bandwidth cost on its own side and apparently share the burden on Windows users.
Another drain is frequent update by your apps, including Windows itself. The major culprit being your Antivirus, Browsers, Office applications, Media applications etc. An average Antivirus update could gulp 100 – 250 MB, Chrome also. Combine all of this and you will realise over 500 MB is expended on Updating. Windows update could be much higher.
Usage by Users
Now this is the bigger issue. When updates are applied, your PCs benefit. However when user activity drains your data, no benefit accrues to the organisation. Activities on Social Media eg Facebook, Twitter, Youtube etc. Torrent site, Movie download website, Porn Site etc.
So how do we put a stop to all this. Not necessarily this steps will not eliminate the issues but will minimise to a very large extent.
Set all PCS on a metered connection:
When your PC network is metered, Windows automatically blocks Windows Update and some softwares from automatically updating. Here is how to enable the Metered Connection settings. Ensure you are connected, and right click on the Network icon.
Open Network and Internet Settings and then click on "Change connection properties
"Scroll down a bit and locate "Metered Connection"
Turn on the Toggle and that's it.
Set Data Limits
Setting Data limits also helps in minimising Data usage, the added advantage is that Windows will notify you when you reached your limit or exceeded it. Windows also reduce Data consumption to enable you stay within the limit you set.
To enable Data Limits on Windows – Repeat the steps above:
Ensure you are connected, and right click on the Network icon.
Open Network and Internet Settings and then click on "Change connection properties
"Scroll down a bit and locate "Set a data limit to help control data usage on this network"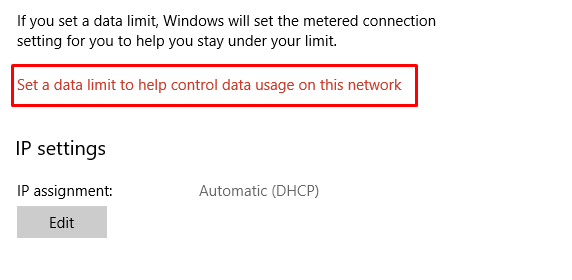 Click on Set Limit and input necessary parameters depending on your available data.
You can also restrict Background data below too.
Control Usage by Users
Actually there are various ways this could be done. On your PC, you can set Windows Parental policy, and there are installable softwares that could help in this regard.
I plan to address this extensively in a separate post. However you could also read here on articles related to this topic, they could be of help. 
If you are looking for a solution to effectively monitor your PCs, manage user login and Directory as a service, why not get in touch.
Most of the times, Zion peers at the computer screen, tweaking codes, analysing and calculating figures, manipulating the screen and digging deep into the World Wide Web. A combination of many different things in one thing. You don't have to bother understanding that.